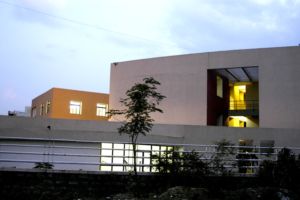 Designing is a highly developed field that requires trained people who are creatively innovative and artistic. Designers should take care that the products should not only be innovative but also user friendly and functional.
This requires greater efficiency and knowledge. Hence, choosing the right course and Design College are the stepping stones to a successful design career. Career in design is not just restricted to fashion, textile, accessory, interior, graphics, animation or product but also in the fields like film making, fashion communication, design space, furniture, exhibition, new media, user interface, transportation and photography. National Institute of Fashion Technology (NIFT), National Institute of Design (NID) and Industrial Design Centre (IDC) are dream ventures for many fashion & design career aspirants. Beside these, there are some other private colleges which provide quality delivery. Students also have an option to go abroad for design education.
10 students from National Institute of Design get record Rs 36 lakh offer
Not one or two, but ten students have been offered a pay package of about Rs 36 lakh a year at the placement drive being held at National Institute of Design (NID), Ahmedabad from Friday. This is a huge rise from 2012, where the highest package was around Rs 13 lakhs. Trident Group is the company offering the largest pay package this year.
Around 40 companies will participate in the NID placement drive, between December 6 and 8. Students from both campuses, at Paldi and Gandhinagar, will apply to companies like Adidas, Schneider Electric, Trident, Cognizant, Whirlpool, SAP Labs, Robert Bosch Engineering and Business Solutions, Samsung, Honda Motors, Godrej, Relaxo, Wipro and Adobe.
While Trident has offered Rs 36 lakh per annum to ten students, Cognizant recruited the highest number, 20 students. "We have only domestic brands this year. The stupendous growth in the highest salary offered between 2012 and 2013, that too by a domestic company, shows that people want design in every sector now. A marriage of technology and design is happening all over the world and NID offers quality design students," said Sujitha Nair, NID's industry relations and placement officer.
While many companies including Cognizant have previously come for recruitments, there are many new players like Adidas and Schneider. A healthy number of NID alumni have also turned up this year, to recruit fellow students in start-ups.


NIFTian selected as trend forecaster for European design firm
Megha Thomas, a final year Fashion Management student from the National Institute of Fashion Technology in Gandhinagar, is a trend-setter. She has become one of the first students from her course for clinching the challenging job of a fashion and trend forecaster with an European firm called Promostyl, an international trend research and design agency.
Prior to being offered the job of a trend forecaster with a pay package of $1,08,000 (Rs 49.24 lakh) per annum, Thomas worked as a trainee forecaster for 12 weeks with the agency's New York office. Her take on Spring 2011 runway trends and the shopping list she drew up for New Yorkers got her this internship opportunity.
Talking about her experience, she said, "After working there for a brief while, I am really excited to join the firm. Forecasting trend and fashion at such an international level is a very different experience. I saw the creative team travelling around the world to discover and analyse the latest consumer currents and preferences. I also forecasted the Spring 2011 trends in home-fashion for a US-based company during my internship."
On an average, FMS students have three job offers in hand. These students will be working with leading retail companies, garment manufacturers, magazines, export and jewellery houses.
The major recruiters this year for FMS are DR Garments (India) Ltd, Future Group, Bharatiya International, Marks and Spencer, Gini and Jony, Titan Industries and Gujarat-based Fibre2Fashion.